3 Tips for a Successful Holiday Shipping Season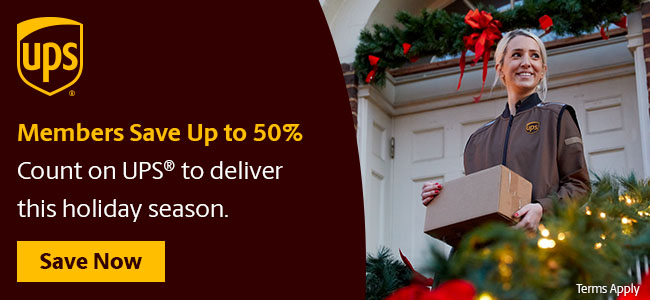 Let our UPS Savings Program give you the tools you need to prepare and manage all of your shipments so that you can ensure your packages arrive on time and as expected.
Use these 3 tips to help optimize your holiday outcomes:
Ship early and save
Sign up for a new account or login to your existing account to make sure you are taking advantage of your ACHCA UPS Savings Program discounts.
Download or bookmark the 2023 Year-End Schedule from UPS
Use the schedule to answer questions, review services and confirm recommended ship by dates for on-time shipment arrivals before the holidays.
Don't let porch pirates steal your holiday cheer!
The holidays are prime times for porch pirates, but InsureShield® shipping protection can give you the defense you need to keep the Grinch away. Simply enter the value of the goods in the declared value* field of your UPS® approved shipping system and you are on your way to better shipping experiences.
Member Savings Include:
50% off Domestic Next Day / Deferred
30% off Ground Commercial / Residential
50% off International Exports & 40% off Imports
Up to 50% off on additional services.
Plus, UPS Smart Pickup® service is free.
Share this post: