California Summer Hiking Safety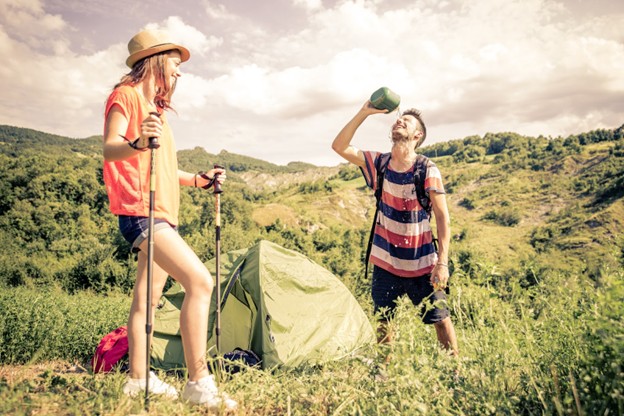 Summertime in California means we're headed outside to enjoy the fresh air and warmer temperatures that the season offers. Even still, you'll want to make sure you're well prepared before you head out on a hike to avoid a potentially dangerous situation. Take a look at some of the following tips to keep you safe from the California heat and wilderness this summer.
Stay Hydrated
One of the most important tips to remember when you're out hiking is to drink plenty of water. California heat in the summer cannot be underestimated, and becoming dehydrated can be dangerous and make you more susceptible to heat strokes and other heat-related ailments.
Depending on the intensity and duration of your hike, you should plan to drink at least 1 liter of water every hour, so bring enough water supply accordingly. Experts suggest that if you notice half of your water supply is gone, it's time to head back.
Hike in Groups
Another way to stay safe on the trails is to avoid hiking alone. If you don't have an option to hike with other people, make sure you tell someone where you're going ahead of time, what you're wearing, and when you're expected to return.
This doesn't just apply to amateur hikers, either. Outdoorsmen of all skill levels can find themselves in precarious situations in the wilderness, so hiking in a group can be beneficial if someone ends up injured and needs help being carried out.
Have the Basic Essentials on Hand
The best way you can be prepared when hiking in the California wilderness is to have all the basic necessities with you on the trail. We've already mentioned packing enough water, but make sure you also have enough snacks, sunscreen and a hat, a compass and a map, a first aid kit, extra clothing layers, a flashlight, and a whistle.
Stay on Trails
Although it may be tempting to head out into the wilderness to explore new territory, it is best practice to stick to the trails. Blazing your own trail could not only lead you to getting lost, but it also could destroy the delicate fauna of the area.
Keeping all of these tips in mind, you're well-equipped to hit the trails and safely enjoy the great outdoors that California has to offer.
--

Bailey Schramm is a writer in partnership with leading stethoscope distributor Stethoscope.com
Share this post: